About Our Department
Community Health Nursing is a branch of nursing which combines nursing science with other health related sciences and evidence-based practice in different fields of society. It is the synthesis of nursing and public health practice applied to promote and protect the health of population. It combines all the basic elements of professional, clinical nursing with public health and community practice. The students are posted along with the staff and Nursing supervisors for Family Health survey, Home visits, Field Visits like Urban health center, Rural health center, Community health center, Primary Health center, Sub center, Anganwadi center, Water works department, Sewage Treatment plant, Market, Restaurant, Municipal Department, Dairy Department, Slaughter house, School health. The department is committed and actively participates in the extension activities to improve the health status of the community through organizing and conducting Antenatal clinics, Post natal Clinics, Well baby clinics and special camp, Home care management of high risk mother, high risk neonate, accident management, illness care, referral services, and provides training and supervision of health workers.
VISION:

Narayana College of Nursing will be an Universal leader for Innovations, Research, Education, Attitude and Practice to create Positive changes in the health outcomes of Individuals, Families, Communities in all Health Care settings.
MISSION:

The Community Health Nursing Department's mission is to serve as catalysts for optimizing Community Health care through health care by integrating education, application, research, and technology to develop innovative solutions and to prepare nurses for global Community Health nursing care to improve health for all.
Faculty
Objectives
To disseminate essential knowledge, attitude and skills to provide quality services in communities.
Impart quality education to the students in the field of community health nursing
To empower learners to respond to health needs in the cultural context using existing facilities.
To train skills for collaboration with community based groups towards health promotion
To identify Community Health Nurses role in health care delivery systems.
Emphasize the importance of health education in community.
Collaborate with the governmental and non-governmental organizations in meeting the health needs of the people
Organize staff development programs for health care providers.
To promote research learners through the use of epidemiological methods.
To render comprehensive, promotive, preventive, curative and rehabilitative services to the community through outreach activities
To improve the leader ship quality in all health care sectors.
Emphasize the importance of health education in community.
Action Plan
Promoting health awareness in urban and rural regions
Improving student education quality through BRICS2 and ICT tools.
Adoption of families from both urban and rural areas.
Organizing a school health program
Encourage the public to recognize their own health problems
Celebrating national and worldwide health initiatives based on a WHO theme
Planning an in-service education program for ASHA, ANM, and Anganwadi workers
Organizing specific health camps in underserved areas.
Result Analysis
Publication
Research Activities
Lab
(BRICS) 2
Competency Based Practices.
Theory based learning
Critical analysis
Experiential learning
Community presentations
Department Activites
Social responsiblites
Lab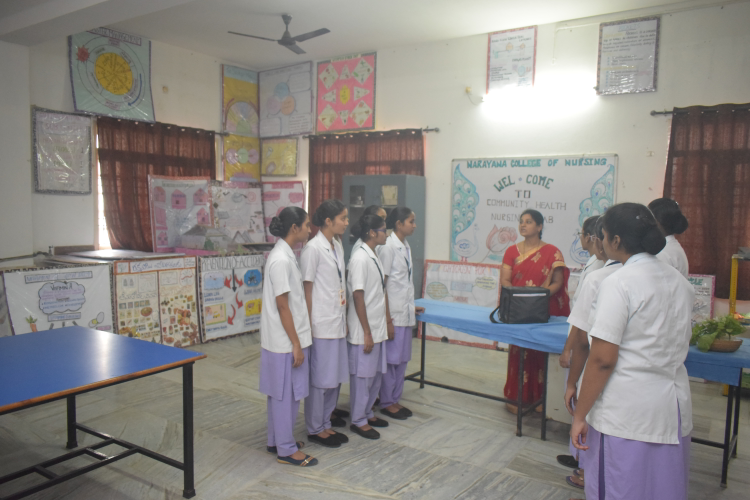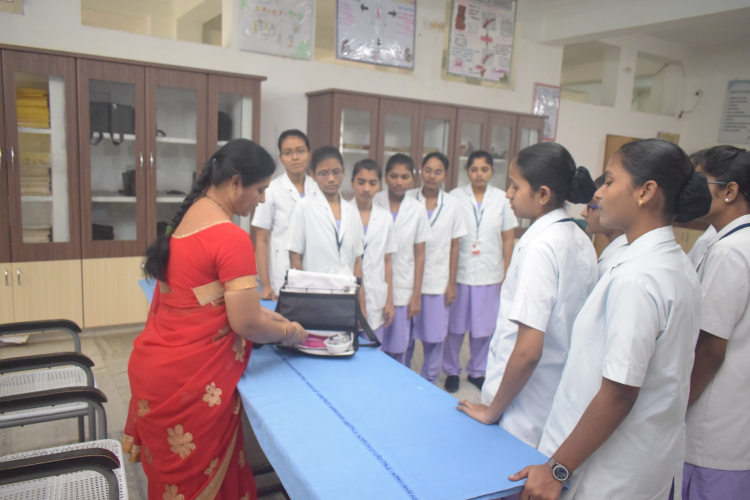 It is located in first floor of Narayana college of Nursing measures about 1500 sqft.
SWOC
STRENGTH
Highly committed faculty and students to dispense good quality combined curative-preventive, promotive, rehabilitative services to the community
Good transportation facilities by Owned vehicle
Well equipped department and infrastructure including two adopted community health centres.
Observing and conducting various health related activities in all the National and International Health Days.
Community and extension services and regular field visit.
Departmental research and community student's project.
Mass media education through Rally, Puppet show.
Collaborative health care activities with other health care agencies. Eg. DMO, SWASTHYA VIDYA VAHINI
Innovative teaching methods as BBRRIICCSS
Mentor-Mentee program to maximize teacher-student relationship and productivity by various initiatives.
Monthly department meeting with journal presentation.
Interdepartmental collaboration for conducting health programs, health camps, dental camps.
Practicing Mid level Health Provider activities in all areas.
WEAKNESS
Limited opportunity to practice as community health nurse practitioners.
Less Research publication
Lack of Collaborations with national and voluntary health agencies for research.
OPPORTUNITIES
Collaboration with local leaders
Conducting Continuing Nursing Educations (CNE) and workshops to health care workers.
Excellence service in the field Community Health.
Enhancement of collaborative research & finding agencies for research grant
CHALLENGES
ul>
Legislative effects on autonomic practice in community
alliance with NGOs
Funding for program sustainability
Publications and paper presentations .
Gallery